What are the Top Jackpot Games to Play on Mobile?
Progressive jackpot slots are the most popular casino games to play. The main reason being the fact that they make it possible to become an instant millionaire. Check out our list of 9 instant games to try today!
Jackpot Games are not your ordinary casino games. These games have a prize pot that can go over millions. The possibility of winning a jackpot adds an extra touch of entertainment and excitement. The RNG for each jackpot game makes sure that the prizes are chosen randomly, making it even more exhilarating since you never know when the juiciest prize will fall. Of course, luck needs to be on your side.
Progressive jackpot slots are the most popular casino games to play. The main reason being the fact that they make it possible to become an instant millionaire. However, though jackpot slots appear to have a monopoly on this type of game, other casino games feature progressive jackpots, such as some table games.
What is even more convenient, players can access all of these casino games on their mobile devices.
Here is a list of the best jackpot games to play on your mobile:
Divine Fortune
Immortal Romance
Great Rhino
Leprechaun goes to Hell
Imperial Riches
Grand Spinn Superpot
Mercy of the Gods
Wish Upon a Jackpot
Fishin' Frenzy

Whichever you choose, remember to play responsibly and not to spend more than you can afford. Manage your bankroll before you start the game. If the stakes are too high for you, look for a jackpot game that suits your budget.

1. Divine Fortune Jackpot Game
Are you a Greek Mythology fan? If yes, you will enjoy the visuals of the mystical world where numerous God-like creatures live.
The massive popularity of this progressive jackpot online slot keeps on growing. What makes it so unique is the relatively high RTP, medium volatility, the abundance of bonus features and the progressive jackpot.
There are three types of jackpots available in Devine Fortune, and all of them will be allocated with multipliers. If you are lucky enough to fill the row with bonus symbols, you will hit the minor jackpot. If you manage to fill 2 rows, then the Major jackpot of 100x will be yours.
Filling three rows of bonus symbols means that you will get the Mega Progressive Jackpot.
Please note that the Mega Jackpot prize is particular to the online casino. Meaning the prize amount will differ depending on the number of players.
We recommend this NetEnt aesthetic perfection that includes free spins and wonderful payouts, as long as you commit to playing responsibly. Keep in mind that luck is involved in the outcome of the game.


2. Immortal Romance Jackpot Game
This one will be great for those players who are looking for slots with themes of mystery, romance and darkness. Immortal Romance depicts the story of several characters and their forbidden love. Well, who doesn't love a good juicy love story?
The plot of it will surely keep you interested, but the bonus features are even more charismatic. Free spins, scatters, wilds, bonus rounds will add to the atmosphere and the creativity of this game.
Immortal Romance includes a jackpot with a maximum win of 12,150x your stake.
Microgaming has made sure that this game is to be enjoyed wherever you are. It is built with an HTML 5, making it fully compatible with all mobile devices, including iPhone, iPad and Android.


3. Great Rhino Jackpot Game
Are you ready to hang out with the majestic creatures of the African savannah? This video slot is created by Pragmatic Play and is available on all mobile devices, anywhere you go! The slot is designed to perform well and is scalable to any size screen.
If going on a safari is on your bucket list, you will love the visuals and the sounds effects. On top of that, it is abundant with great paying symbols, wilds, free spins and re-spins.
Great Rhino includes two fixed jackpots, the Major and the Grand Jackpot. The first is worth 375x your stake, while the Grand is worth 500x your stake.
This slot game is easy to understand, and you will enjoy exploring the African continent with great winning potentials.


4. Leprechaun Goes to Hell Jackpot Game
This video slot powered by Play' n GO has made it on our list for jackpot games to play on mobile because it has a unique theme. You are probably used to seeing leprechauns all smiley and granting wishes. However, this time you will be entertained by cheeky, naughty leprechauns prone to practical jokes and mischiefs. Put a leprechaun in hell, and he will mine gold for his mistress Evilene.
Among the flames threatening to overtake your mobile screen, you will find pots of gloss and scatter symbols to help you win your jackpot.
You will also enjoy hellish free spins that can be retriggered and an infernal bonus feature, along with the flaming hot progressive jackpot. To help you increase wins that are multipliers and in-game jackpots.
Bear in mind that hitting a progressive jackpot is a rare event, so don't invest money that you don't have.


5. Imperial Riches Jackpot Game
Head to the Japanese luscious garden and enjoy the hanging lanterns in the background. That's right, this jackpot game has a beautiful Japanese theme, and it is available on desktop, smartphone and tablets.
Apart from being beautifully scalable to every screen size, the Imperial riches is rich in free spins and jackpots. It features 5 jackpots, and believe it or not, 3 of them are progressive.
You will be met by free spins, wild symbols, avalanche features, and bonuses along your journey to the far East.
Again, the progressive jackpots will vary in different online casinos. We recommend that you check out Imperial Riches by NetEnt if you enjoy beautiful graphics, a great mixture of features paired with not one but several progressive jackpots.
Make sure you play jackpot mobile games at licensed and regulated online casinos. Jackie Jackpot is a trustworthy casino where you can play this game without worrying about safety.


6. Grand Spinn Superpot Jackpot Game
Another jackpot game from your best software provider NetEnt. You can expect great gameplay and high quality on all mobile devices.
This jackpot game slot takes you to the grand times of Art Deco. It is elegantly designed and sophisticated, though you will see the standard fruit symbols on the reels.
Players who appreciate the classic feel of a slot will also like the features of this grandiose slot. The nudge feature is probably the most exciting, but the wilds contribute with the multiplier feature built-in.
There are three fixed jackpots, including the Mini, Midi and Mega Jackpot. Then, there is the Super Jackpot, which is a progressive jackpot. Every time the game is played by another player, a sum of the bet is added to the Jackpot.
Before playing this game, we suggest that you manage your finances since we know that this jackpot game is very straightforward for you to play on your mobile. We encourage you not to get carried away.


7. Mercy of the Gods Jackpot Game
This jackpot slot will take you to Ancient Egypt, and Egyptians were all about their Deities. Just by looking at the title of this game, you know that you will hop on an adventure to solve some mystery with the help of the merciful Gods.
The adventure takes place in ancient pyramids, where a cute archeologist is solving mysteries and finding treasures.
Some of those treasures include gifts, free spins, double wilds, scatters, and of course, a Jackpot.
This is not just another ancient-themed jackpot slot. It will keep you engaged with exciting gameplay and lucrative winning potential. The progressive jackpot makes it incredibly exhilarating and rewarding. NetEnt has once again done a great job.
You can also fully enjoy the beautiful design and all of its features on your mobile devices without losing the quality.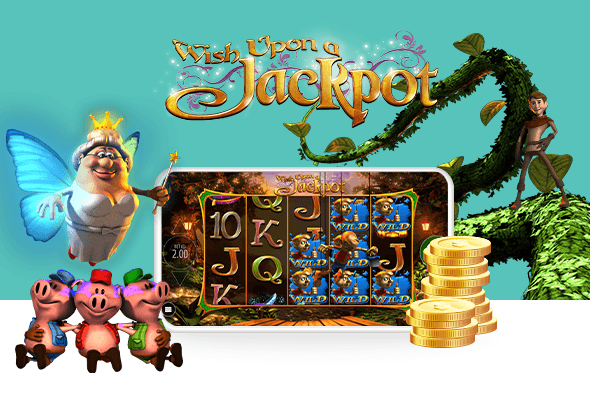 8. Wish Upon a Jackpot Jackpot Game
Once upon a time, there was a jackpot slot with fairytale prizes. Set in an enchanted woodland with mystical creatures and cool visuals, this slot's magical treats will appeal to most players.
If you are lucky enough, the Fairy Godmother will appear randomly on the reels to bestow you sweet goodies.
This Blueprint Gaming slot is one of the most entertaining since it intertwines several famous stories and turned them into 4 magical features. The Fairy Godmother bonus claims to make your dreams come true in this perfect storybook.
Don't forget that in this tale, magic doesn't happen for everyone. Ensure you stay real with yourself and aware that luck has a lot to do when playing jackpot games.


9. Fishin' Frenzy Jackpot Game
There are a lot of reasons why this game is on our list of top jackpot mobile games. It is amusing, and it provides a serene experience, just like you are out fishing. It may not be one of the most thrilling slots to play, but it sure is a rewarding one.
The game has enough bonus features to keep you interested, but still, the gameplay is straightforward.  Reel Time Gaming developed it with a lot of actions, fun and delightful rewards.
You will be fishing' for some high-paying symbols, free spins and a lucrative fixed jackpot.
Apart from the original Fishin' Frenzy, you will find the Fishin' Frenzy Megaways slot at our site. While we fully recommend that you try these jackpot games, we want you to gamble responsibly.

How do Jackpot Games work?
If you are lucky, playing jackpot games can win you huge cash prizes per one spin. But how do you win it? Well, most of the time, you need to trigger a bonus feature or a bonus round. This is usually succeeded through a free spins feature or completely at random.
Jackpot slots are the most popular when it comes to jackpot games. They are very similar to the regular online slots but with much bigger payouts.
The bonus games in the jackpot slot will mostly depend on the game provider, but most of the time, they include bonus spins and re-spins, frozen symbols and a wheel of fortune. The jackpot wheel is a common feature found in slots with multi-jackpots.
Classical Slots vs. Progressive Jackpot Games
There are more types of jackpot games, and slot machines are top games for players' preferences. However, you need to understand the difference between the standard and a progressive jackpot slot before choosing which one is the right type for you.
The Standard Jackpot includes a fixed amount of money as the highest prize. More players on the same day can snatch the jackpot prize. They will receive the same jackpot payout.
On the other hand, the Progressive Jackpot game has a prize that continues to grow the more players are playing it. The bet of every player contributes to the final payout of the game.
There are also other types of jackpot games, such as the daily jackpot, Jackpot King games, WowPot Jackpots, Cratch card jackpots and more.

Please remember that the prizes are awarded on a random basis. There is no guarantee that you will win a jackpot. Also, there is no strategy you can use to increase your chances of winning it. Every type of jackpot game is determined by a Random Number Generator, which means it's all down to chance.
Why Play Jackpot Games?
The main reason why players are drawn to jackpot games is the presence of the jackpot itself. In addition, there are some additional factors that you can benefit from:
jackpot slots have larger prizes than regular slots

jackpot slots can come with multiple jackpots

the prize pools can grow in time

they are easy and readily available

jackpot slots are mobile-optimized
Because they are very entertaining, jackpot games can also become addictive. At Jackie Jackpot, we are highly committed to responsible gaming, and we want you to understand that gaming should stay a game and relaxation and not become a gambling problem. Set yourself limits and do not let them interfere with your daily life.
Advantages of Playing Jackpot Mobile Games
Nowadays, people prefer to use their mobile devices to work or play on their coffee breaks. The most obvious advantage of playing jackpot mobile games is that you don't have to be at home to do so. There is a special sense of comfort when playing on your mobile phone.
Another reason is that sometimes you might be offered additional bonuses and perks if you are playing at a mobile online casino. Also, there is no need to download casino software or a mobile application. Most of the time, you can play the games directly via your browser.
Moreover, playing jackpot mobile games might be safer than playing them on your PC. Android and iOs are very secure operating systems. Therefore there is no reason to worry about your sensitive information.
Please play for fun and do not chase your losses.

Beginner Jackpot Games Rules
If you are a rookie, but you want to try some of these jackpot games, make sure you know the rules. This will increase your chances of winning some cash.  Make sure you check the minimum bet required to start spinning the reels and adjust the paylines.
Don't spend more than you can afford. If the stakes at a certain game are too high for your budget, you need to find another game.
Some Jackpot Games Tips
There is no secure formulate to help you win a jackpot. But, in this section, we listed several tips to make your overall experience better and entertaining. Some of our top tips are:
Learn about the game and its features by playing them in free mode.

Choose your slot based on the theme and the features you like. That is why we have created a list with different themes, payouts and bonus features.

Create a budget that you can afford and stick to it.

Set a loss limit

Make sure you play at a licenced and regulated casino. Jackie Jackpot online casino is regulated in Great Britain, and it also holds a license from the Malta Gaming Authority.

Please Gamble Responsibly
If you want to increase your chance to win, always play within your budget.

FAQ:
How do jackpot games work?
They include top prizes that can be either fixed or progressive.
What are the odds of winning a jackpot?
You need to know that the prizes are awarded randomly. The top jackpot games will have a high RTP and will more frequent payouts. However, there use a Random Number Generator, so there isn't a foolproof strategy to help you win a jackpot.
How often does a progressive jackpot hit?
It depends on the jackpot game and the online casino. Progressive jackpots will take longer, while daily jackpots are hit every day.
Are jackpot slots fair?
Jackpot Slots use a Random Number Generator mechanism. We also recommend that you play at an online casino that holds a license from respectable authorities. Jackie Jackpot holds licenses from the MGA and the UK Gambling Commission. This means that you will be playing exclusive fair games.
What is a Jackpot King slot?
These are slots with a Jackpot King jackpot attached to them. It can reach a huge bonus before it's claimed.
What are fixed jackpots?
Those are jackpots that will not increase in size.
How many jackpots are there on one slot?
It depends on the type of jackpot game. Most slots will have one jackpot, but some slots might even offer four top prizes.
Is there a way to know if a jackpot game is going to hit?
Absolutely not! Jackpots are paid randomly, and you cannot know for sure.
How do I play jackpot mobile games?
Look through our selection of games from your mobile browser. It is straightforward. You need to have an account and a secure online connection.